Maps, apps & guides
Finding your way around
All bus stops, train stations, and ferry wharves have posted timetable and route information at the stop, and many have digital real time departure displays. We recommend using the Metlink app(external link) or mobile website for the most up-to-date route and timetable information, real time service alerts and live departures.
Routes and timetables are posted at all bus stops, train stations & ferry wharves, and include zone information and a graphic detailing the main stops and estimated travel times of routes. Some stops have digital real time information displays. If the stop does not have a digital display, you can scan the QR code in the bottom-right corner to see that stop's real time departure information or type the stop number or station name into the Metlink app or website to see estimated departures.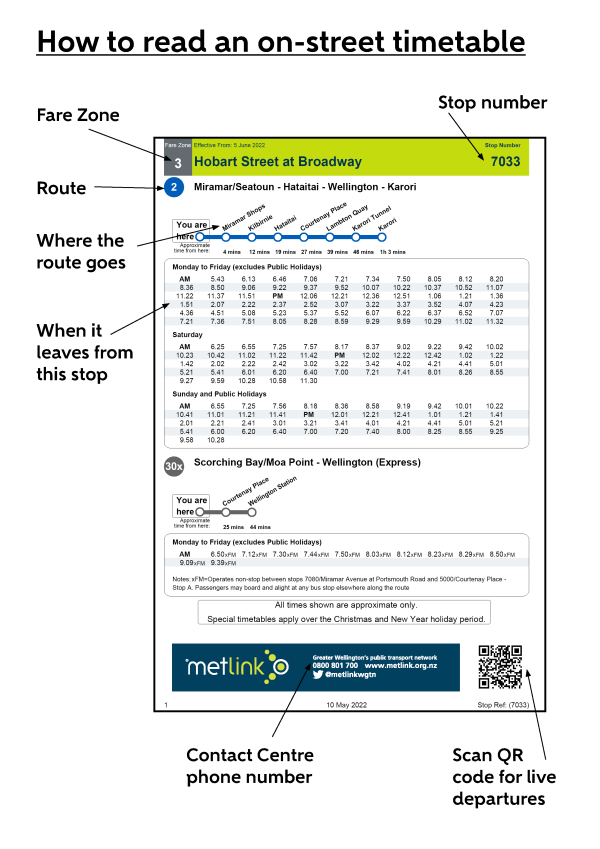 Network maps are posted at all train stations and major bus interchanges. Network maps can also be viewed or download from the website, and paper versions are available at Wellington Station, the Wellington iSite, and other timetable stockists around the region.
Paper timetables
You can download and print timetables directly from the Metlink website by clicking the "download" button on any online timetable.
You can also request paper timetables to be mailed to you by calling or emailing the Metlink Contact Centre.
Some local libraries and businesses also have paper timetables for local routes.
Wellington City Centre, Te Aro & Pipitea
Wellington Station(external link) Customer Kiosk (across from ticket office)
Bunny Street
Wellington City i-Site
Corner Wakefield & Cuba Streets
Greater Wellington Regional Council
100 Cuba Street
Evolve Youth Services
Level 2, James Smith Building
Brooklyn
Brooklyn Library
1 Harrison Street
Churton Park
Churton Park Community Centre
75 Lakewood Avenue
Island Bay
Island Bay Library
167 The Parade
Karori
Karori Library
247 Karori Road
Kelburn
Victoria University
Kelburn Parade
Khandallah
Khandallah Library
8 Ganges Road
Kilbirnie
ASB Sports Centre
72 Kemp Street
Ruth Gotlieb (Kilbirnie) Library
101 Kilbirnie Crescent
Kilbirnie Bus Depot
45 Onepu Road
Miramar
Miramar Library
68 Miramar Avenue
Newlands
Newlands Community Centre
9 Batchelor Street
Newtown
Newtown Library
13 Constable Street
Wellington Hospital
Riddiford Street
Ngaio
Cummings Park Library
1 Ottawa Road
Tawa
Gorgeous Goose Cakes
182 Main Road, Tawa
Mervyn Kemp (Tawa) Library
158 Main Road, Tawa
Wadestown
Wadestown Library
1 Moorhouse Street
NB: Only stocks local timetables
Lower Hutt City Centre
Queensgate Shopping Centre
Corner Queens Drive & Bunny Street
War Memorial Library
2 Queens Drive
Hutt Hospital - Reception
High Street
Upper Hutt City Centre
Upper Hutt Station(external link)
Station Crescent
Upper Hutt i-Site
836 Ferguson Drive
Upper Hutt Library
844 Ferguson Drive
Eastbourne
Eastbourne Library
38 Rimu Street
Gracefield
Wellington Top 10 Holiday Park
95 Hutt Park Road
Naenae
Naenae Library
27 Hillary Court
Petone
Petone Station(external link)
Hutt Road
Petone Library
7 Brittania Street
Weltec Petone Student Association
Kensington Avenue
Silverstream
Silverstream Cruise & Holiday Centre
12/2 Whitemans Road
Stokes Valley
Stokes Valley Library
Scott Court
Taita
Walter Nash Centre
22-26 Taine Street
Trentham
Trentham Post Office
9 Camp Street
Wallaceville
Maclean Street Store
42 Maclean Street
Waterloo
Waterloo Station(external link)
Cambridge Terrace
Wainuiomata
Wainuiomata Library
Queen Street
Carterton
Carterton Information Centre
Holloway Street
Featherston
Adamson Service Station
32 Fitzherbert Street
Greytown
Greytown Library
89 Main Street
Challenge Greytown
Main Street
Martinborough
Martinborough i-Site
The Square, Waihinga Centre
Masterton
Masterton Station(external link)
Perry Street
Masterton i-Site
Corner Bruce and Dixon Streets
Pahiatua
Pahiatua Travel Centre
125 Main Street
City Centre (Porirua)
Porirua Station(external link)
Station Road East
Porirua Library
17 Parumoana Street
Porirua City Council - Reception
16 Cobham Court
Kenepuru Community Hospital
Hospital Drive
Cannon's Creek
Cannon's Creek Library
18 Warspite Ave
Paraparaumu
Paraparaumu St(external link)ation
Ruapehu at Epiha Street
Paraparaumu Library
9 Iver Trask Place
Kāpiti Citizen's Advice Bureau
First Floor, Coastlands Shopping Centre
Waikanae
Waikanae Station(external link)
Main Road
Ōtaki
Ōtaki Library
13 Main Street
Metlink use a vehicle tracking system to estimate arrival times of services based on actual GPS locations of buses and trains, called Real Time Information (RTI). On-street digital displays are also used to provide messages advising of major service changes or disruptions. The tracking information collected from the system provides us with data about service performance, which helps us refine timetables and manage contractual agreements around service quality and performance.
Many of the busiest bus stops and most train stations have digital departure displays on street or on the platform. Departure times for each stop, even if it doesn't have a digital display, can be found on the Metlink website and app by typing in the stop name, stop number or station name in the search bar.
Understanding the information
Buses and trains that are running and tracked by GPS will display as an estimated number of minutes to arrival. DUE means the bus or train is nearby and will turn up shortly. Services that have not started their trip or are not currently being tracked by GPS will display as a scheduled time and say SCHED. If a service says CAN, it has been cancelled.
Train services will display if a train is running "All stops" or "Express". When buses replace trains, signage will display a system message with more information.
Service alerts and delay messages are broadcast to customers through several channels. The Metlink website and app and scrolling messages on on-street digital signage will inform customers if their service has been impacted. Delay messages and general service alerts are not usually posted to facebook. Train stations may also play announcements over loudspeakers.
Please note: Third-party apps and other websites that "scrape" our website for timetables, routes, and real-time information may not accurately or reliably display all of the service alerts and notifications that Metlink publishes. Metlink does not have control of the quality of information that other apps provide. Contact your app provider directly with any issues.
All Metlink buses and trains have clearly marked priority seating areas for passengers with disabilities or mobility needs, the elderly, pregnant persons and caregivers with small children. Newer buses and trains on all lines, except for the Wairarapa Line, have high-contrast floor markings, green seat coverings (instead of the usual blue), and priority seating area stickers.
Passengers requiring a seat are encouraged to ask other customers seated in priority seating areas for their seat, if they feel confident to do so. We recognize that not all disabilities or impairments are visible, and encourage passengers to ask the driver to request passengers to vacate seats, if needed.
Have your card or fare ready
Have your Snapper card out, or your cash ready for the driver or train staff. This speeds up the boarding process so that everyone can get where they're going on time.
On at the front, off at the back.
By exiting through the back doors you won't collide with people boarding the bus.
Slide across to window seats
We ask that passengers sit in seats by windows if possible, and leave aisle seats open for the next person. If you're getting off soon and another passenger wants to sit in your row, you can offer to swap with them so that it's easier for you to exit when you've reached your stop.
Hold on if you're standing up
For your safety, hold onto poles and handles throughout the vehicle, and reduce distractions, such as mobile phones, while the bus is moving.
Up top? Sit down.
Top decks of double deckers are for seated passengers only. Seat count screens in the stairwell will tell you how many seats are available before you head upstairs. Passengers must not be in the stairwell while the bus is moving. Please wait until the bus has pulled completely into a bus stop before coming down the stairs.
Press the button in plenty of time
Drivers need time to signal and slow down as they approach a bus stop. If no one is waiting at the stop, and the "Stop" button hasn't been pressed, drivers will pass the stop.
Getting a seat on the train
Trains can be very busy during peak commuter times. There are some things you can do to make it more likely you can get a seat:
Catch the services starting further down the line

– for example,

if you live in Tawa catch the services that start in Porirua, rather than those that stop at Paremata and Plimmerton.
Get in a carriage towards the end of the train – the carriages that arrive and depart closest to Wellington Station are the most popular. Try walking up the platform to the carriages further away.
Travel earlier or later during the peak period