Detours & closures
Stops, stations, and carparks sometimes have to temporarily close off areas and buses sometimes need to detour from their usual route due to roadworks, events, or construction.
Ngaio Gorge Road Slip Stabilisation Project - until September 2022
The Ngaio Gorge Road Slip Stabilization Project is part of the Wellington City Council's plan to improve this key transport route's resilience. Traffic management for this work will bring the road down to one lane, controlled by traffic lights.
Bus stop 5403- Kaiwharawhara Road (Ngaio Gorge Track) will be closed from 12 October 2020. Please use bus stop #5404 - Ngaio Gorge Road (opposite 105)(external link) to catch routes 25, 26 and 746.
Monday 21 June to December 2021
Route 150 detours via Herbert Street and Laery Street during cycleway works on Parliament Street.
Closed bus stops
Temporary bus stop
0910 Herbert Street at Bridge Street (temporary stop)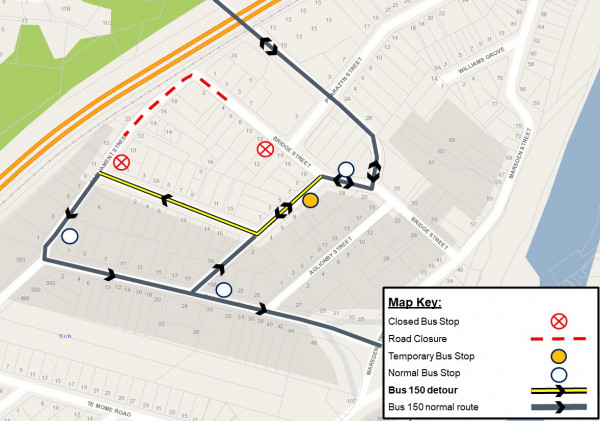 From Tuesday 9 March, the stairwell at Paremata Station will be closed until further notice to prepare for strengthening works.
Alternative access to the station platform is via the subway located by the Park & Ride. Car parking is not affected.
Last published: Thursday, February 4, 2021 at 9:39 AM