Detours & closures
Stops, stations, and carparks sometimes have to temporarily close off areas and buses sometimes need to detour from their usual route due to roadworks, events, or construction.
Ngaio Gorge Road Slip Stabilisation Project - until September 2022
The Ngaio Gorge Road Slip Stabilization Project is part of the Wellington City Council's plan to improve this key transport route's resilience. Traffic management for this work will bring the road down to one lane, controlled by traffic lights.
Bus stop 5403- Kaiwharawhara Road (Ngaio Gorge Track) will be closed from 12 October 2020. Please use bus stop #5404 - Ngaio Gorge Road (opposite 105)(external link) to catch routes 25, 26 and 746.
Monday 2 August to October 2021
As part of Upper Hutt City Council's water culvert renewal works, there will be road closures on:
Pinehaven Road at the junction with Blue Mountains Road is closed
Sunbrae Drive at the junction with Blue Mountains Road is closed
Route 115 will detour during this time:
Services from Upper Hutt will stop at Gard St (Stop 8416 Silverstream Station - Gard Street

(external link)

) as usual and travel via Whitemans Road, Blue Mountains Road, Forest Road, Pinehaven Road, Jocelyn Crescent.


Services will then turn right into Pinehaven Road to serve a temporary bus stop for Pinehaven Library (Stop 0407) at 67 Pinehaven Road.
Services will return via Forest Road, Blue Mountains Road & Whitemans Rd to a temporary stop (9499 Silverstream School - Whitemans Road (opposite) (school stop)

(external link)

) in Whitemans Road (outside New World Supermarket- Silverstream Station access) where customers connecting to train services can get off the bus.


There are three temporary bus stops:
Stop 0408 Blue Mountains Road at Pinehaven Road
Stop 0409 Blue Mountains Road at Whitemans Road
Stop 0407 Pinehaven Road at Pinehaven Library


Services will then continue along Kiln Street, Field Street & Sunbrae Drive as far as Deller Grove where it will turn around and return reverse route to Silverstream Station – Kiln Street (stop 9416 Silverstream Station - Kiln Street

(external link)

). Services then continue as normal to Upper Hutt.
This route change is expected to be in place for around 3 months.
A temporary timetable for the 115 will be in place while these works are completed. This temporary 115 timetable(external link) will be updated and is live from 11 July 2021.
Please note that there will be a few days where the website will not reflect the direction of bus travel while the website is updated.
Route 115 Detour Map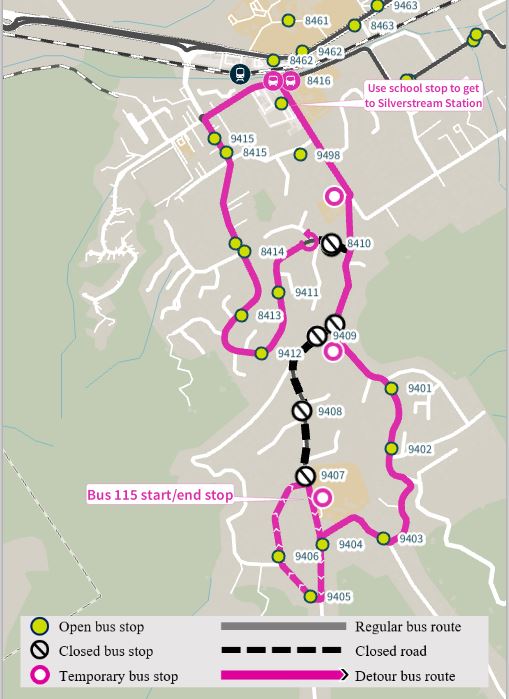 Monday 21 June to December 2021
Bus 150 is detoured via Herbert Street and Laery Street during cycleway works on Parliament Street.
Closed bus stops
Temporary bus stop
0910 Herbert Street at Bridge Street (temporary stop)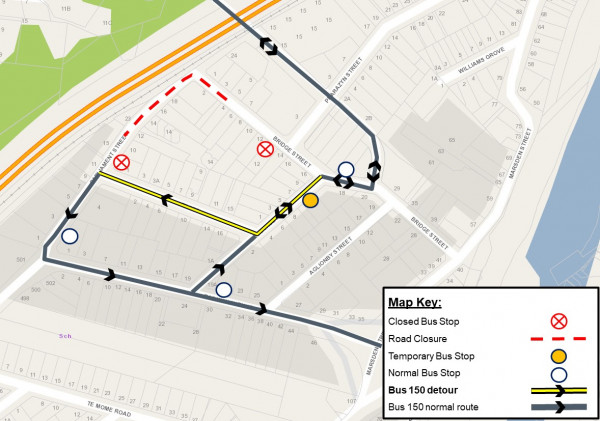 The KiwiRail team are making good progress on the Trentham to Upper Hutt double tracking project.
As part of this, the Wallaceville Station refurbishment is now complete and the second platform construction, due to be finished in September 2021, is well underway
What does this mean for Metlink Services?
In April 2021, the Wallaceville Station reopened to trains.
The Park & Ride at the station is partially closed to cars for the duration of the project.
We appreciate your patience while these works are being carried out.
For more information on the project work, email wgtnupgrade@kiwirail.co.nz.
Car park area closure from 7 September 2020
KiwiRail are working hard to construct a new pedestrian underpass at Trentham Station. In order to complete this work, an area of the car park will be closing from 7 September 2020.
Due to heavy machinery operating, there will be a section of the platform that is restricted to getting on and off the train only, no waiting will be allowed. This will not affect bus services.
Take care and look out for signage. Thank you for your patience and understanding as these works are carried out.
For more information visit the Trentham to Upper Hutt double tracking project page(external link).
From Tuesday 9 March, the stairwell at Paremata Station will be closed until further notice to prepare for strengthening works.
Alternative access to the station platform is via the subway located by the Park & Ride. Car parking is not affected.
Tuesday 6 April to August
Due to roadworks on Warpsite Avenue outside Waitangirua Mall for the new Transmission Gully intersection, bus stops 2124 Waitangirua Mall at Warspite Avenue(external link) and 2150 Waitangirua Mall - Warspite Avenue (opposite)(external link) have moved to new locations for the works duration.
Temporary bus stops:
outside 273 Warspite Avenue
outside 206 Warpsite Avenue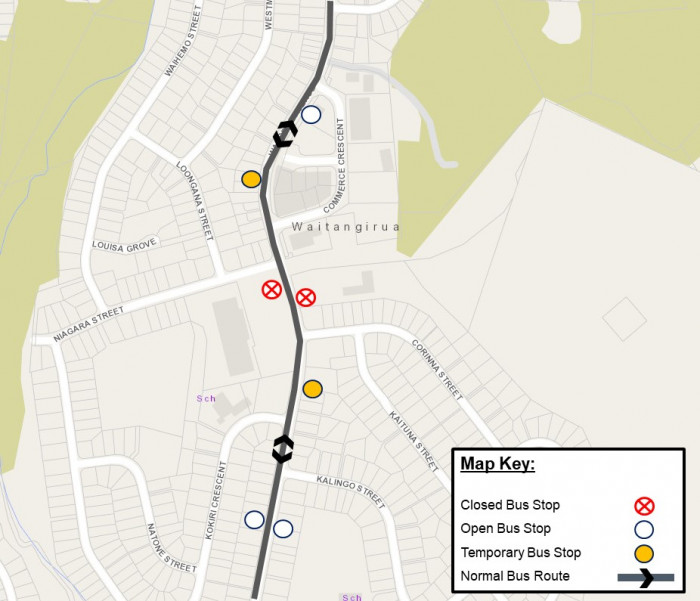 Last published: Thursday, February 4, 2021 at 9:39 AM