Wellington Harbour Ferry is getting a new name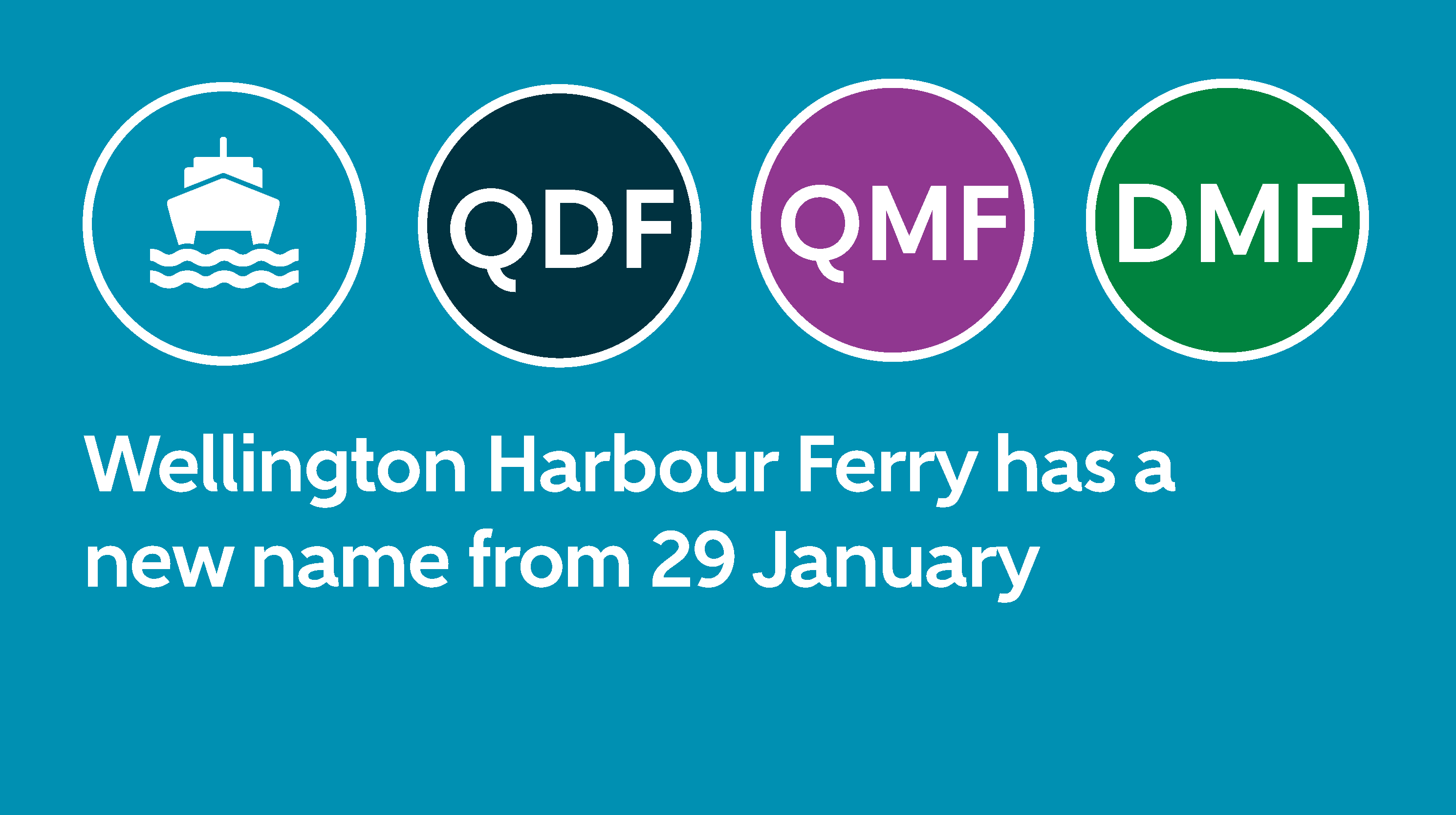 The Wellington Harbour Ferry (WHF) that serves Queens Wharf, Days Bay and Mātiu/Somes Island will start running a new timetable from 29 January 2023, split into 3 distinct routes. Separating Mātiu/Somes Island services into two new routes makes it easier to accommodate seasonal changes in visitor-centred services with lesser effect on the timetable for the regular commuter route across the harbour. This change will also make it easier to add other ferry routes and timetables in future.
The new timetable increases the frequency to Mātiu/Somes Island every 90 minutes (previously every 2 hours) on weekdays. One extra sailing has been added on the Queens Wharf to Days Bay route weekdays Monday to Thursday, and two extra sailings added on Fridays including a trial of a later 8pm service.
New route names
The routes are named for the destinations they serve, to make it clearer for visitors and regular users of the ferry which service to choose. The first and second letters in the route name are the stops on that route - 'Q' for Queens Wharf, 'D' for Days Bay and 'M' for Mātiu/Somes Island. The 'F' at the end is for Ferry, similar to how train routes end with 'L' for Line.
QDF - Queens Wharf to Days Bay Ferry
QMF - Queens Wharf to Mātiu/Somes Island Ferry
DMF - Days Bay to Mātiu/Somes Island Ferry

Service alerts and MyMetlink favourites
To make sure that no one misses out on notifications for these new routes, anyone with 'WHF' as a favourite in their MyMetlink account will automatically have these three new routes added to their list of favourites when the new timetables are published. If any of these new routes don't interest you, individual routes can be easily removed from favourites in your MyMetlink account.
Tickets to Mātiu/Somes Island
Visitors to Mātiu/Somes Island need to pre-select their return trip from the island when buying a ticket, which helps manage the number of visitors on the island and the limited space on board the ferry at popular times. More information about Ferry tickets & fares.
Mātiu/Somes Island is a scientific and historic reserve administered by the Department of Conservation (DOC) on behalf of the owners, Taranaki Whānui. East by West, the operator of Wellington Harbour Ferries, work closely with the Department of Conservation (DOC) to manage the number of visitors to the island to protect the island's special species and plants.