Catch the bus to the Newtown Festival
The Newtown Festival 2023(external link) lineup features 16 stages, 9 local venues and 200 artists. Regular bus routes will detour around the closed streets, and shuttles will run from Wellington Station and Kilbirnie to the festival.
Newtown Festival Shuttle
All stops between Wellington Station, Golden Mile, Newtown & Kilbirnie
Festival shuttles run every half an hour, 9:30am to 5:30pm, and stop at all stops from Wellington Station, along the Golden Mile, Courtenay Place, Kent/Cambridge Terrace, Adelaide Road, Riddiford Street, around the Newtown detour, and Kilbirnie.
Festival shuttle buses won't be Metlink branded buses.
Bus detours
Buses detour away from Riddiford Street while streets are closed for the festival. Please expect delays and allow additional time for travel.
Route 1 detours via Adelaide Road
During the festival, buses on route 1 follow Adelaide Road (same as the route 32x), and don't go past the hospital or Riddiford Street. Nearest bus stops are the route 32x bus stops on Adelaide Road.
Real time information will incorrectly show route 1, but route 1 buses won't stop at these bus stops:
Stop 7017 – Wellington Hospital – Stop B
Stop 7018 – Riddiford Street at Hall Street
Stop 6055 – Wellington Hospital – Stop A
Routes 3, 12, 18, 23, 29 detour via Daniell/Owen Streets
Detour routes run as a one way system. Buses towards Kilbirnie and the South Coast travel down Owen Street, with temporary stops on Mein Street near 41 and Owen Street near 57. Buses towards Wellington City travel down Daniell Street, with temporary stops on Riddiford Street near Hall Street and on Daniell Street at Constable Street.
Detour Maps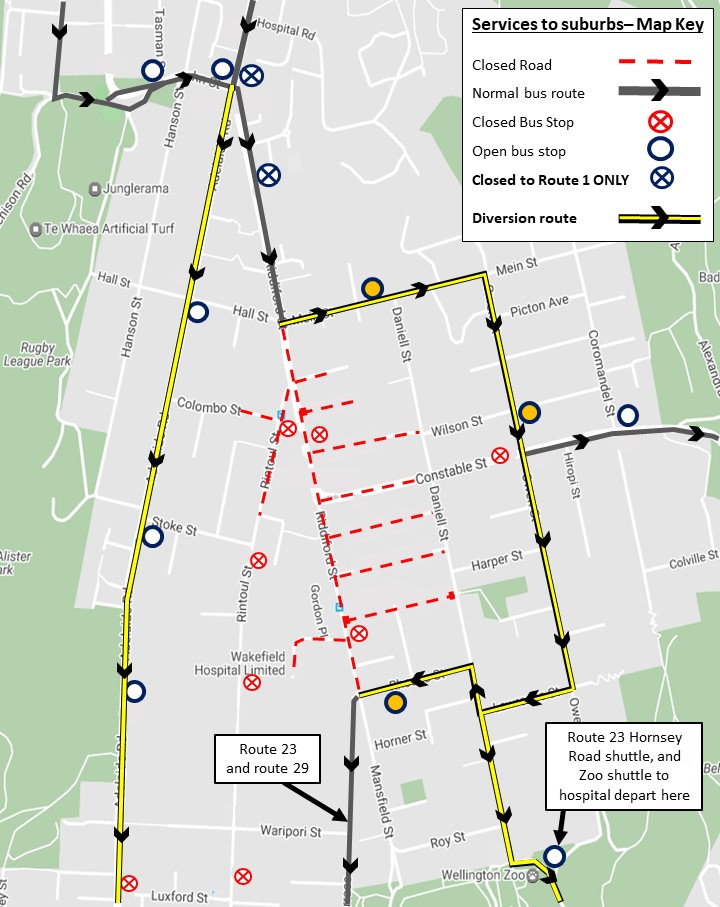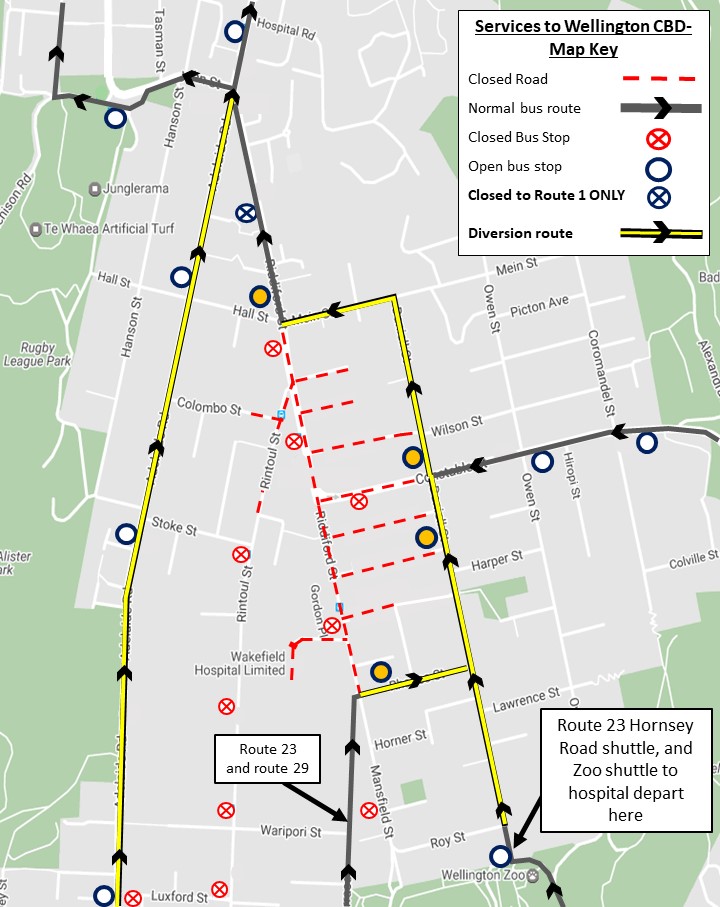 Zoo and Hornsey Road Shuttles
Wellington Zoo Shuttle follows detour
Zoo shuttle timetable doesn't change during the festival, but the buses will follow the detour route on Daniell/Owen Streets.
Route 23 Hornsey Road Shuttle changes slightly during Festival
Hornsey Road shuttle(external link) runs only between Wellington Zoo and Hornsey Road from 9:30am to 5:30pm.
Shuttles before and after the festival start and end at Wellington Hospital and follow the detour on Daniell/Owen Street.