Children & Prams
Travelling with little passengers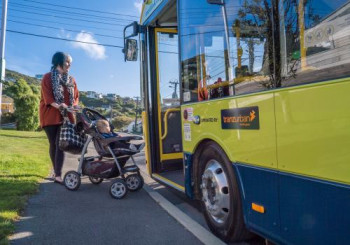 Metlink welcomes passengers travelling with children in prams, strollers and buggies (prams). Children under 5 travel free, and there's no extra charge to bring a pram on board. The best time to travel with a pram is during off-peak hours.
Buses, trains and ferries have varying capacity for prams, and they may be required to be folded in some circumstances. When a pram must be folded, the child(ren) must be seated with their carer. Children under 5 years old must be accompanied by a passenger who is at least 10 years old.
The main priority of drivers and Metlink staff is to ensure passengers' safety and security. Their role includes applying these guidelines and communicating them to passengers.
For safety and security reasons, staff members are not required to help passengers get on and off
Staff members can take reasonable steps to require passengers to stow their prams safely so they don't obstruct the aisle or prevent other passengers getting on or off safely
Staff members can ask a passenger who is not prepared to follow the guidelines to leave the bus or train
If a bus is capable of "kneeling" (lowering), the driver will kneel the bus to make it easier for customers with prams to get on and off
Bus drivers will remain stopped until all prams are secured
Most Metlink buses and trains are wheelchair accessible, which makes them accessible to prams as well. Some buses can "kneel" while stopped, and accessible train carriages are clearly marked.
Some large buses have both wheelchair and pram priority seating areas, while smaller buses have one priority seating area. On newer buses, the priority seating areas are easily recognizable by the green seats.
Prams must not be placed in aisles, or anywhere else that could prevent other passengers getting on and off safely.
People in wheelchairs or with limited mobility take priority over prams in priority seating areas, as these are the only spaces where they can travel safely. If a pram is already using the designated wheelchair space when a person with limited mobility needs it, the pram must be folded and stowed safely, and the child seated on the carer's lap. The carer and child are not expected to leave the bus or train.
Prams larger than the maximum dimensions (or that block aisles or doorways) must be folded and stored safely for travel.
Maximum Dimensions: 70cm wide and 90cm long
Prams must not have shopping bags, luggage, or any similar items hanging from the handle, as this can make them fall over. Items should be removed and stowed in the luggage rack.
Prams may need to be folded and stored in luggage racks in some circumstances, and this includes additional items and bags in the pram.
Buses and trains have limits to the number of people they can carry safely. Full buses and trains may not be able to pick up waiting passengers, including those travelling with a pram or children. The best time to travel with prams and children is off-peak, as there is generally more space available.
All folded prams can be carried on board the bus replacement services when stored in the luggage areas, however, non-foldable prams may not be able to be carried on all bus replacements. Please talk to on-board staff when boarding.
Just like all passengers, little ones should not be eating food or drinking from containers without lids while on board. In general, it is safest not to feed young babies in a moving vehicle, even if they are in a pram or held by their carer. Carers with crying babies or children won't be asked to leave the bus.
If any messes happen, we ask carers to do their best to clean up, and inform the driver as soon as it's safe to do so. We ask that nappies are not changed on board.
Staying safe on board
Buses and trains are moving vehicles and can brake or turn suddenly. Public transport vehicles don't have seatbelts, so it is safest for small children to be seated on a carer's lap, and not standing or climbing on seats or in aisles. Children old enough to sit by themselves in a seat should still be closely attended by a carer to ensure their safety. However, when services are busy, we ask that children are seated on a carer's lap to free up a seat for another passenger.
If carers want children to remain in their prams while they're on the bus or train, the brakes must be applied, the child securely fastened into the pram, and pram must be able to go down the aisle and be stowed fully in the priority seating area. Prams should be positioned away from the direction of travel, if possible.
Last published: Tuesday, June 23, 2020 at 10:15 AM