Total Mobility
Cheaper fares for He Ratonga Tekehī Total Mobility
Metlink fares will be half the current fares on all buses, ferries and trains. This also includes our He Ratonga Tekehī Total Mobility service.
This is because the Government recently announced public transport fares will be temporarily reduced across the country to ease the cost of living over the next three months.
Translations available
Note: Documents below state incorrect dates. The half price fare period will run until 30 June 2023.
How will my Total Mobility trips be cheaper?
During the half price fare period, the majority of Total Mobility customers will pay half their usual share for Total Mobility taxi trips.
The maximum Total Mobility subsidy amount will be $60 per trip.
Will this change how I use my Total Mobility card?
There is no change to the way your Total Mobility card is used. You must give your card to the driver at the start of each trip, or you will be charged the full fare.
There is also no change to the Customer Terms & Conditions [PDF, 208 KB]. You can read the Terms and Conditions on our website, or we can send you a printed copy via the Contact Centre.
You can continue using your Total Mobility card to get the Accessible Concession on Metlink public transport services.
How long will Total Mobility fares be cheaper for?
Total Mobility customers will pay cheaper fares for their Total Mobility taxi trips from 1 April to 30 June 2023.
We hope you enjoy the cheaper fares. We are working hard to manage our public transport as we navigate through the pandemic. Our services may be impacted by COVID-19, so it is always a good idea to call ahead to check taxi availability or use our Metlink website before using public transport.
Total Mobility Scheme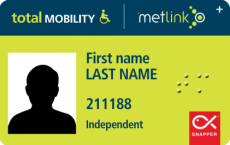 The Total Mobility scheme is provided throughout New Zealand and is jointly funded by local and central government. The scheme subsidises door-to-door transport for disabled people who cannot independently use regular public transport services, all or some of the time. Total Mobility users receive a 50% discount, up to a maximum of $40 per trip, on eligible trips including wheelchair accessible services.
In Wellington, Total Mobility cards have Snapper cards built in for paying bus fares and already have the Accessibility concession applied.
If you have a long-term physical, mental, intellectual or sensory impairment, contact us for more information or talk to your support agency about eligibility.
Support agencies & transport operators
Eligibility & how to apply
You may be eligible for Total Mobility if you have a permanent impairment or illness that stops you from undertaking one or more of the following five aspects of a journey by yourself on public transport in a safe and dignified manner:
Getting to the place where the transport departs
Getting onto the transport
Riding securely
Getting off the transport
Getting to your final destination point.
Whether or not you have access to local public transport in the area that you live or travel to/from are not taken into consideration when determining eligibility.
If you are a member of an approved support agency (see the list above), you should contact them directly to arrange a Total Mobility assessment. If you are not a member of an approved support agency, contact Metlink.
The assessment usually takes 20-30 minutes and includes the assessor taking a photo of you for printing onto your Total Mobility identification card. You can have the assessment at your own home or at the support agency office. We can also visit hospitals etc.
We will write to you within 10 days to advise the outcome of your assessment.
Your new Total Mobility card will come with instructions and a copy of the Terms and Conditions of Use. Please read these carefully before using your Total Mobility card for the first time.
To use your card
Contact your preferred Total Mobility transport company to book a trip
Give your Total Mobility card to the driver at the start of the trip
Pay the driver at the end of the trip
Keep a copy of your receipt
Remember: if you do not give your card to the driver at the start of the trip, you will not get the Total Mobility subsidy and will be charged the full fare.
You can download and print a copy of these instructions below:
Total Mobility flyer - English [PDF, 434 KB]
Total Mobility flyer - Māori [PDF, 437 KB]

Yes. Please let the transport operator know you need a wheelchair-accessible vehicle and are a Total Mobility member when booking your transport. Try to book your wheelchair-accessible service in advance wherever possible because evenings and weekends are popular times.
In the Wellington region, Total Mobility cards are also Snapper cards with the accessible concession built in for paying Metlink bus fares. Just like all Snapper cards, money needs to be loaded onto the card to use it for bus fares.
In the Greater Wellington region, the Total Mobility subsidy is 50% of the total fare, up to a maximum of $40.
If the total fare is more than $80 the customer must meet the additional cost and pay this directly to the driver.
Yes. Other regions using electronic cards are:
Auckland
Bay of Plenty
Canterbury
Hawke's Bay
Horizons (Levin-Wanganui-Taumarunui-Dannevirke)
Marlborough
Northland
Otago
Southland
Taranaki
Waikato
If you are travelling to the regions below you will need to contact us at least seven days prior to your travel and we will post you vouchers to use. The regions still using paper vouchers are:
No, only you are permitted to use your Total Mobility card. Your caregiver may travel with you but can't use your card to travel on your behalf, for example to run errands, or for personal travel reasons.
Yes, but remember as the eligible Total Mobility customer you must remain in the vehicle for the entire time that your companion travels.
The information provided as part of the eligibility assessment for Total Mobility will be used to establish your eligibility for Total Mobility, it may also be used for statistical and research purposes which will not identify you as an individual. This information may be accessed by employees or representatives of the Greater Wellington Regional Council and your disability support agency (if any). When required for audit purposes, information may be accessed by the agents, employees, contractors or representatives of the New Zealand Transport Agency and their auditors, or any Crown entity performing similar roles.
All personal information will be held securely and protected against loss, unauthorised access or misuse.
If you do not provide the information requested (including an approved identification photograph), you will not be able to register as a member of Total Mobility and you will not be eligible for any subsidy.
Under the Privacy Act 1993 you have the right to access personal information about you held by Greater Wellington Regional Council and your disability support agency for Total Mobility purposes. You are also have the right to request that we correct any information held about you.
You must immediately notify Greater Wellington Regional Council and your disability support agency if any information provided to support your application for Total Mobility changes or if there is any other change of circumstance which may affect your eligibility for Total Mobility.
Contact Metlink if you have any questions about the personal information we hold about you, or click here to view the Greater Wellington Regional Council's Customer Privacy Policy.
Last published: Thursday, March 23, 2023 at 7:54 PM